Dave Brubeck is gone. I can't even believe it. "Take Five" was his most famous and recognized song, but my favorite is "Blue Rondo â la Turk." A master of the odd time signature, his body of work was so vast and made me so happy, I've been listening to his music and fighting back tears all day.
When I first met Kim, he had Brubeck's Quiet As The Moon album, which had just come out. It was recorded as the soundtrack for some Charlie Brown/Peanuts project, but I don't know if that ever actually materialized. I latched on to that album and played it every night. Kim was in his final semester at UC Berkeley and liked to have music playing while he studied, but it had to be instrumental. Music with lyrics distracted him. So I put that album on every night, and he studied while I read or drew.
The first track on that album is "Bicycle Built For Two," which has long been one of my favorite standards. I sing it all the time. It's one of my go-to bunny songs (along with "You Are My Sunshine"), meaning that when I'm cuddling one of the bunnies, I usually sing one of those two songs to them. For years I wanted a bunny named Daisy, but when you name a companion, you can't just name them whatever you want — you have to let them have a say in it. So it was only last Christmas that I adopted a bunny who finally agreed to be my "Daisy."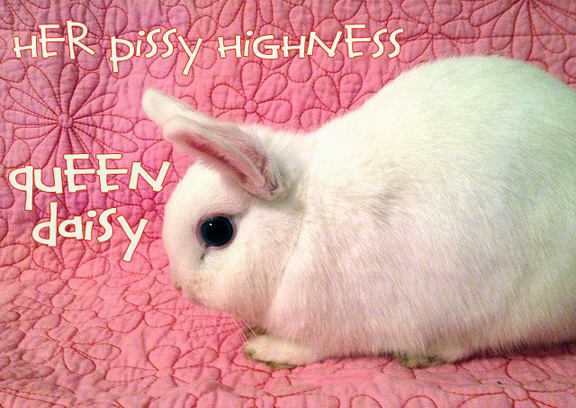 She's a holy terror. Yes, I know she looks sweet and she is itty-bitty teeny-tiny. Looks lie. She will suck you in with her cuteness and, in a split second right before your very eyes, morph into a fuzzy deathball of teeth and claws. The Killer Rabbit of Caerbannog is a Muppet by comparison. If you look closely at that glint in her eye, you can see the evil. But I love the little monster to bits, and so does Icky. Mostly. When she isn't terrorizing him.
Tonight, in memory of Dave and all the beautiful music he's left us, here's "Silent Night." I hope he and Kim are having a Christmas beer together somewhere right about now.